Things You Want to Know About the Oberammergau Passion Play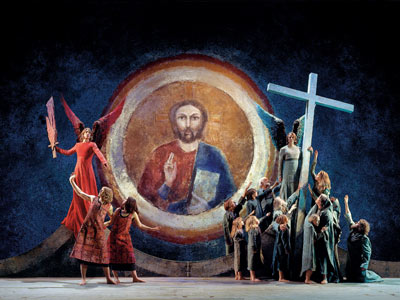 With only fours months to go before the first performance on May 15, 2010, travel packages to the Oberammergau Passion Play in Germany are selling fast.
The Passion Play portrays the Passion of Christ—from the entry into Jerusalem to the Resurrection. This history of the play is quiet fascinating.
In 1634, the Black Death decimated Europe's population. Oberammergau remained untouched until a homesick villager returned one night, unknowingly bringing with him the dreaded plague. Almost 100 villagers died as a result. Frightened survivors vowed that if God saved them from the plague, once every 10 years they would reenact the agony and crucifixion of Christ.
From then on, there were no further deaths from the plague—and the villagers have fulfilled their pledge ever since. The Passion Play demonstrates an impressive community effort. All participants were born in Oberammergau or have lived there for at least 20 years.
These actors come from all walks of life including carpenters, flight attendants and nurses, but every 10 years they take on theses roles to fulfill the promise made by the ancestors to celebrate their faith, gratitude and share it with the world.
The play runs May to September in 2010. It is performed entirely in German. Why attend if you can't understand the language? Like opera, this is an appreciate for the arts. You don't have to understand the words to feel the passion in the performance and the musical score. Let's not forget the amazing scenery. The open air theatre has the Alpine mountains as it's backdrop. Anyone can appreciate the experience complete with the beautiful setting, choir, orchestra and hand made, exquisite costumes.
Tickets only are sold out, but there is still some availability in conjunction with hotel, tour or cruise vacations.
Performed once every 10 years, Oberammergau's Passion Play is a part of history you don't want to miss.