Small Business Changing Attitudes Towards Flexible Working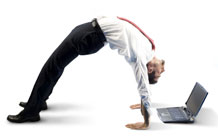 A new study, commissioned by Microsoft Corp and conducted by Vanson Bourne, interviewed 1,500 workers across 15 European countries on their attitudes towards flexible working. It shows that small businesses better meet employees' demands to have greater flexibility in deciding when and where to work.
The study revealed that even though the majority of office workers want to work more flexibly, the larger the organisation, the less likely its employees are enabled to do so. Half of the people participating in the study said they lacked access to the most basic technology tools that would enable them to work away from the office. By not enabling the flexibility that working employees demand, larger and medium-sized businesses are missing out on the opportunity to increase their productivity and attract and retain great talent.
While about one-quarter of employees in small businesses* (with fewer than 50 employees) regularly work away from the office, only 9 per cent of staff in companies with 500 or more employees do so.
Small organizations are the most likely to allow flexible working, with more than two-thirds doing so; one-third have a policy and technology support in place.
Eighty per cent of respondents that work for a large organization do their overtime at the office, compared with only 61 per cent of those who work for small businesses.
One-quarter of employees in large organizations cannot access the technology and systems away from the office, while only 16 per cent in small businesses face that problem.
The study also shows that the impact of flexible working goes far beyond employee satisfaction.
Fifty-six per cent of flexible workers believe they work more productively away from the office, and 48 per cent say this is because they can fit their work around personal commitments.
Seventy-three per cent of workers in Europe think their lives would improve if they could work more flexibly, but less than one-third of businesses provide guidelines on flexible work. Four in 10 employees said the option of flexible work would influence their decision to accept a new job.
Continued on the next page